Happy New Year! We've finally made it to 2022 and with a new year, come new resolutions. Goals are a great way to keep yourself accountable, establish routine and improve your life overall.
But they can be toxic too.
Setting wild, life changing and sometimes unrealistic goals in January puts yourself in a position to be disappointed by December. We may be motivated at first, but life happens and we fall off our routine. The disappointment of not following through can hurt your self esteem and create a negative image of yourself but don't let it!
Here are a few practices I keep in mind every new year:
Make sure YOU are comfortable with the lifestyle changes you want to make
We all have vices that we'd love to get rid of or change but do it at a realistic pace. Forcing yourself to change your lifestyle before you're ready to make that change usually ends in disappointment. Avoid the negativity and think about your resolutions carefully. What do you really want to change?
Start Small
If you know you want to completely love your mind, body and self by the end of 2022, don't be discouraged if you don't feel it right away. Start small with steps like daily affirmations to get in the right mindset.
Once you've established what you will say to yourself everyday, move into another mini-goal like making time for yourself everyday. Starting small and working your way up helps you avoid quitting altogether.
Be Specific & Simple
Instead of a resolution such as, get out of my comfort zone, try something like, join a painting class, complete a HIIT program, crochet a blanket, etc. Being specific with your goals will make it easier to plan how you're going to achieve it.
Also, if you want to set multiple goals, keep them simple and attainable. Achieving big goals requires a lot of work and dedication. New Year's resolutions are supposed to be fun and healthy. If you're overdoing it and stressing yourself out over it, what's the point?
Track your progress
An easy way to see how far you've come is to journal your journey. I'm sure you all know by now how much I love journaling. It keeps myself accountable and helps me realize my progress whenever I feel discouraged. I usually use a prompted journal to organize my approach and track my progress. Even if you aren't where you wanted to be, It's nice to look back and see how far you've come.
Avoid toxic goals
Please, please, please don't make it a goal to lose weight. It's an unhealthy and toxic expectation to set for yourself. Replace it with something like, adopt healthier habits. If this means adding more greens to your dinner plate, remembering to wash your face at night or getting at least eight hours of sleep at night, then perfect.
Making it a goal to lose weight is a slippery slope into bad habits like not eating which turns into an unhealthy relationship with food. There are more cons than pros, so please don't do it.
If you don't achieve your goal by the end of the year, don't be discouraged. Making any change to better yourself is a huge accomplishment and should be celebrated. Good luck, stay positive and happy New Year!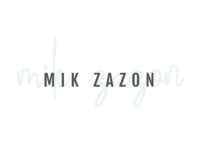 EXPLORE
Writer, speaker, and creator on a mission is to normalize normal bodies and help women like you feel at home in your own skin.

I'm Mik!
hey love,
Get to know me!
LET'S HIIT IT!
Move your beautiful body!